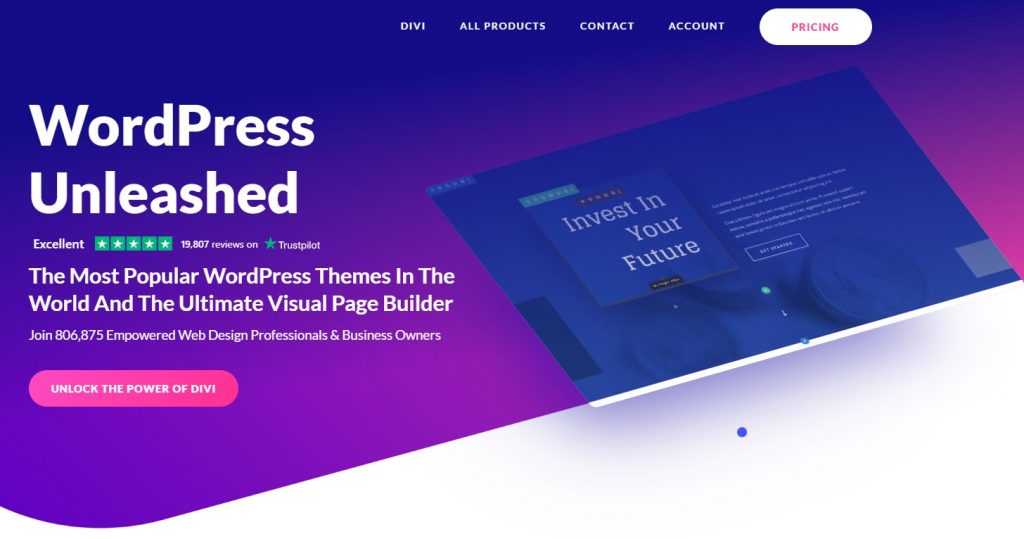 Divi is by far one of the most popular WordPress themes
Divi theme is a WordPress theme created by Elegant Themes, a fully responsive theme that adapts to different screen sizes. It is a multipurpose theme that can be used for business or personal websites, with various predefined layouts that you can use for your website. It has a built-in drag and drop page builder that allows you to create custom layouts for your pages and posts. You can also use Divi help and support to find answers for your questions
Divi theme is one of the most popular WordPress themes around. It's easy to use and has a ton of features that can help you build any kind of website you want. Plus, it's updated regularly with new features and improvements, so you can always rely on Divi to be up-to-date.
One of the best things about Divi is that it's so versatile. You can use it to create any kind of website, from a simple blog to a complex eCommerce store. And with Divi's massive library of modules and premade layouts, you can build your site quickly and easily.
If you're looking for an awesome WordPress theme that's easy to use and versatile, you should definitely check out Divi. It has everything you need to create a great website, and it's always up-to-date with the latest features and improvements.
A Fast and Modern WordPress Theme – For any website type
There are many benefits to using a Divi theme for your WordPress website. Some of the key benefits include:
Ease of use – The Divi theme is straightforward to use. The drag and drop page builder makes it easy to create custom layouts for your pages and posts.
Customizability – The Divi theme is highly customizable. You can change the colors, fonts, and other settings to match your website's branding. You can also create custom modules and add them to your pages.
Responsiveness – Divi is fully responsive, so your site will look great on any device. Whether people view your website on a desktop computer, a tablet, or a phone, they'll always have a great experience.
Built-in SEO features – The Divi theme has built-in SEO features that help you improve your website's search engine ranking.
If you are using Divi, here's what you need to know
When you initially built your WordPress site, you may have decided on the Divi theme because it was simple to set up. However, sooner or later, you will encounter certain Divi issues and you will need Divi support. These difficulties and problems can negatively affect your company's growth and traffic numbers.
Divi page builder is also among the most popular page builders for WordPress. It is an excellent plugin and works perfectly for almost all types of websites. If you are reading this, you are facing some issues with your DIVI page builder. Don't worry; we have the solution to almost every DIVI theme problem.
DIVI page builder can be unreliable and difficult to use. Sometimes the loading time is immense and can take minutes to load the page. Or, in some cases, the website is unresponsive no matter how hard you try. The site becomes unresponsive no matter what device – phone/tablet-you're using!
Similarly, the page builder shows a timeout or unknown error. It is terrible as there can be hundreds of reasons, and sometimes WordPress does not even mention the error location, which can be pretty frustrating if you don't know much about WordPress. 
A good thing about DIVI is the customizable premade themes, they are tremendous, and DIVI offers a variety of options to choose from. This is a fantastic and convenient feature, but What if you can't download your favorite theme? This excellent feature can be a pain when you cannot download your favorite theme. There will be no error notification; you will look at the loading icon, which will rotate until you go back or cancel the download.
These simple issues are even more frustrating when you can not even enjoy the built-in Divi support
Another frustrating thing about DIVI is the "unable to save changes" you made. It is a common error, and Wrdprssifix.com can solve it along with all the possible problems you can face with the DIVI theme. These problems can affect your website growth and traffic. So, it is essential to fix the issues ASAP to keep the website running and growing.
Find out what could happen if you don't fix your Divi theme issues today.
The minor problems and errors on the website can cause significant consequences. Many errors like slow loading impact the user's experience, and bad user interactions will lower the traffic and decrease your ranking. Moreover, slow loading also affects the website's SEO. And every website owner is well aware of how lousy SEO can take your website down the ranks.
A vast majority of visitors use their mobile phones to read and learn. The unresponsive website will leave many users unsatisfied, which will definitely influence the website's position.
We offer Professional WordPress Fix and Support services.
We offer essential WordPress support services to keep your website running smoothly. Whether you need help with plugin updates, security issues, or performance improvements, we're here to help. Our team of experts will work tirelessly to ensure that your website is always up and running. Contact us today to learn more about our WordPress fix and support services.
Divi theme problems? We offer Divi Help and Support
We can help you with Divi theme support and customization, setting up your blog, creating landing pages, and more. We'll be happy to offer Divi help and support and answer any questions you may have about the Divi theme.
Wrdprssifix.com can fix almost every possible DIVI theme issue/error/problem. We offer both premium long-term and one-time fixing Divi support for our clients. In our premium support plan, we take care of your website's performance and work to maintain the website in optimal condition.
Sometimes the problem can be an installation error or a poor plugin. Such errors need a one-time fix to make the website smooth. So, if you have assessed a small error and don't know how to fix it, you can opt for our one-time fix solution. In this, you will explain the issue, we do the fast fix, and you will pay for the work.  
Whether it is website development or a minor fix, you can leave the site to us with expectations that Wrdprssifix.com will resolve the problems. 
How can you hire us?
You can contact us via our website or by emailing us at [email protected], or you can hop on a chat which you can find in the corner on the right. We'd be happy to answer any questions and assist you with Divi help and support
Efficient and advanced technically
We have just started working with Milos but plan to make this an ongoing support for our site. It's saved our in-house team many man-hours of frustration battling with WordPress. Response times are rapid, excellent technical knowledge goes beyond WordPress and it's a very cost efficient way of being able to get your site to do what you want and do it (technically) well. Highly recommend Wrdprssifix's services.
Great website, responsive service
We've been working with wrdprssifix for a couple months in which time he has delivered a great website. He is responsive so changes are made quickly and is very easy to communicate with. His rates are very competitive and he goes the extra mile.
Great work. Great service. Fast.
Five stars are not enough! I'd been delayed and put off by tech services. Found Milos thru the Divi site.Awesome! Answer to prayer!
Get the Expert help you need.
If you need some help on your WordPress website I highly recommend Milos at WordPress Fix It. I reached a point where I was struggling to accomplish some things on my website. I was spinning my wheels, not getting anywhere, wasting time. I looked for help and found Milos. I was apprehensive at first because he was over 5000 miles away, in a foreign country. Well, you can be at ease. Milos completed my list of changes and fixes in a few days that I was struggling with for over a month. One thing I like was how much communication we had during the process, which included Milos presenting to me options to choose. I now have a relationship where Milos is my Go-To guy for help rather than struggling and wasting time like before.